About Us
Friendly, personal home care services
We will provide excellent Adult social care in the comforts of your home.
We will work with you and offer personalized and bespoke care plans
We will uphold our strong reputation for delivering high-quality home care with an emphasis on continuity of care.
We will hand-pick and match our caregivers and helpers to you.
At Almost Family we will always adopt an "upside down management" philosophy- we believe the best way to provide a great care service is to put our front-line carers at the top of the tree and give them the support to provide exceptional care to you!"
Our Team
Almost Family, was established in 2007 by Mark Clarkson. Combined, Mark and the Almost Family team have over 40 years of experience in providing adult social care services. As a care services provider, we believe and our clients agree that staying in their own home with tailored care, is much better for their health and wellbeing than having to move to a care home.
Our strong reputation for providing high-quality, flexible, home care with an emphasis on continuity is thanks to our passionate team members. We take pride in finding the best people for the roles of care professionals. Our team works hard in building close relationships with our clients by giving them the care they need in their own homes and becoming, like our name suggests, almost family.
We have been very pleased with the help we have received. 
Andrew is a real treasure!
M. Rimmer
Thank you so much for your loving care for my mum during the whole time she was with you. She so enjoyed the company and I know formed strong bonds with several of the staff. We had total confidence throughout the period in your care and are so grateful that you helped make a very difficult time in her life almost enjoyable. 
You really don't need the 'almost' in your title. You really were family. 
Derek & Jenni
Thank you so much Mark for the wonderful way that you and your staff looked after George. We really appreciated what you did and know that he enjoyed having you there. 
Annie & Peter
I wanted to put my thanks on record for the incredible love and kindness "your girls" gave to Doris, particularly over the recent difficult weeks. Nothing has been too much trouble for them and they have shown me kindness and friendliness during this time. My heartfelt thanks go out to your wonderful, happy Company.
Jenny
Over the years we have had other agencies, this company though is head and shoulders over the other companies. They have been honest and upfront. Their carers are flexible and calm and Andrew the care manager keeps me in the picture. I have recommended them to friends. 
Client/Relative
To all the Guardian Angles at Almost Family
Thank you for your loving, supportive thoughts!
Mary
Please can I take this opportunity to thank you and your carers for their fantastic work and attitude to the care of my mother, who I am sure would have appreciated this deep down.
Peter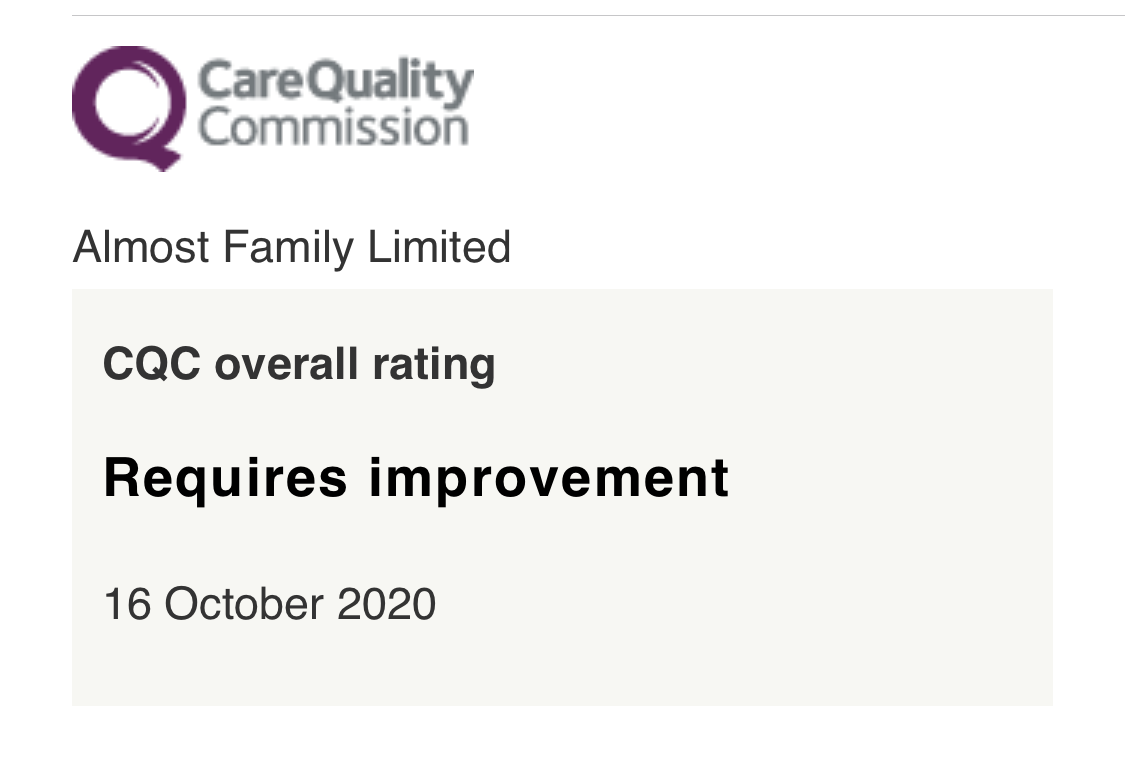 Get private home care of the highest standard
Give us a call on 01293 876080 or 01306 777011 drop us an email and one of our specialist care team
will get in touch as soon as possible.